2021/11/17
Nanya Technology won the 2021 Top 10 Taiwanese Companies Sustainability Model Award
Nanya Technology today was honored with 10 awards from Taiwan Corporate Sustainability Awards (TCSA) and Global Corporate Sustainability Awards (GCSA) held by the Taiwan Institute for Sustainable Energy. We have received the Top 10 Taiwanese Companies Sustainability Model Award, Global Corporate Sustainability Award on Sustainability Reporting, and our second Corporate Sustainability Reports Platinum Award. These awards reaffirm our effort in sustainability development.
We have won the TCSA Top 10 Taiwanese Companies Sustainability Model Award-Manufacturing Industry, GCSA on Sustainability Reporting, Corporate Sustainability Reports Platinum Award, and Sustainable Individual Performance in the category of Growth Through Innovation Leadership, Climate Leadership, Circular Economy Leadership, Supply Chain Leadership, Talent Development Leadership, Information Security Leadership, and Social Inclusion Leadership.
"Nanya Technology has participated in the TCSA Award since 2017 and has won awards for 5th consecutive years. It is an honor to be selected as one of the Top 10 Taiwanese Companies Sustainability Model this year. Nanya has implemented ESG sustainability and will continue to drive stainable development through innovation, and the company aim to be the best DRAM partner for the smart world" said Nanya Technology President, Dr. Pei-Ing Lee.
"Innovation" and enhancing our intellectual property have been Nanya's long-term strategic goal. We have been granted over 5,000 patents worldwide accumulated. Nanya have been cultivating key talents. By 2021, we have trained a total of 400 AI specialists, who have helped improving DRAM manufacturing technology, process and product development. The company will continue cultivating DRAM talents through Industry-academia collaboration, education, training, supervision, and internship plans. We are targeting to train additional 1,000 memory expertise in the next five years.
Nanya's eco-friendly products accounted for 84% of its revenue in 2020, saving up to 658.48 million kWh of electricity for our customers. The company has successfully self-develop 10nm-class DRAM process technology and will launch next-generation DDR5 and LPDDR5 products, which will enable additional power saving of 16~35% while doubling the bandwidth. At the same time, Nanya has formally signed the TCFD initiative in 2021. We have invested over NT$ 3billion in wastewater treatment, and Nanya's process water recovery rate reached 95% in 2020. As of 2025, Nanya will target 22,000 MWh of renewable energy yearly. We will continue to make efforts toward RE 100 initiatives and SBT, the Science-Based Targets.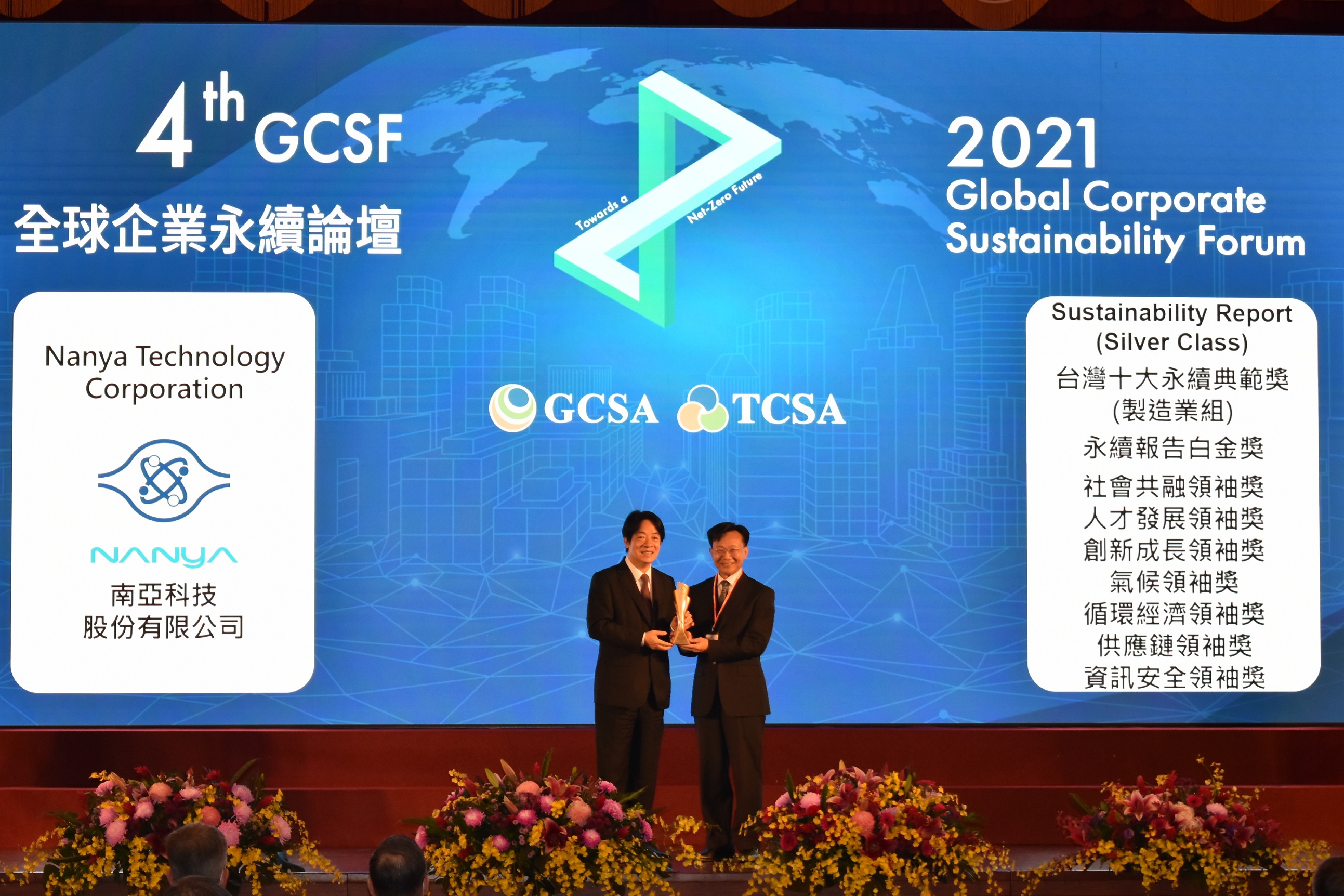 Nanya received Top 10 Taiwanese Companies Sustainability Model Award(Left:President of the Republic of China, Dr. Ching-te Lai and Nanya Technology Executive Vice President, Dr. Lin-Chin Su