Green Manufacturing
A Practitioner of Green Technology
With the green concept that we have only one earth, Nanya insists on leaving the best environment to every future generation. On the aspects of energy, resources, emissions, and waste, we adopt higher standards than regulations to avoid or reduce risks of the impacts, setting goals to review execution results of sustainability performance in order to fulfill our responsibilities for cleaner production and safeguard the natural environment. As climate change has become one of the most significant global risks, we implemented risk identification, assessment and management in accordance with the framework of the TCFD Recommendations to enhance our operational resilience under the risk of climate change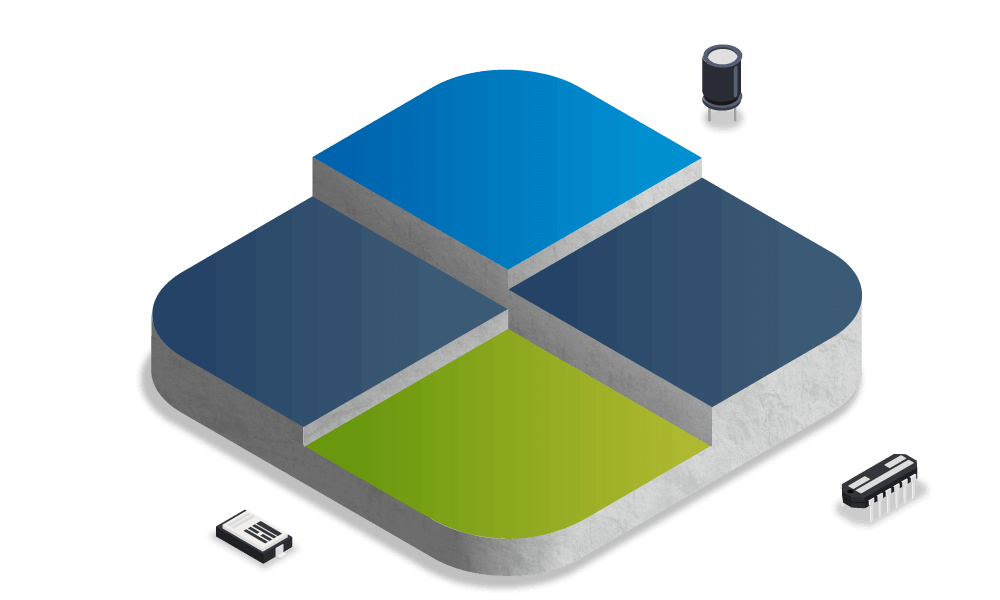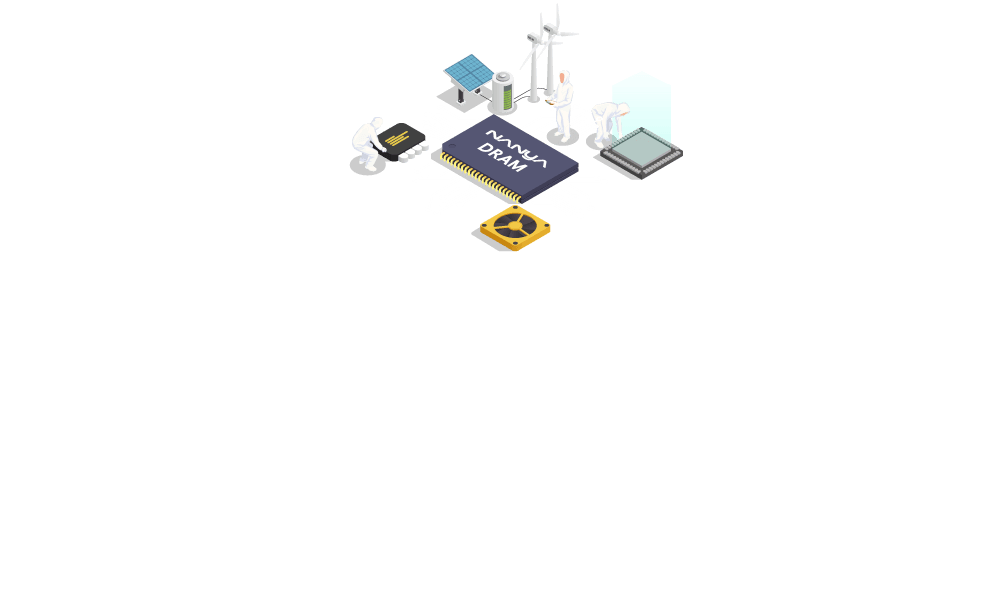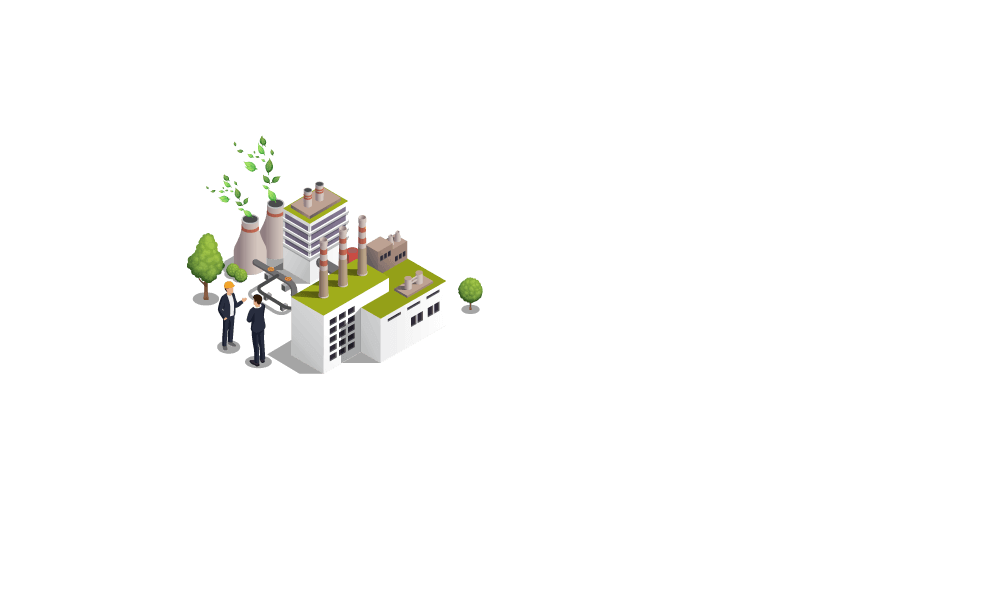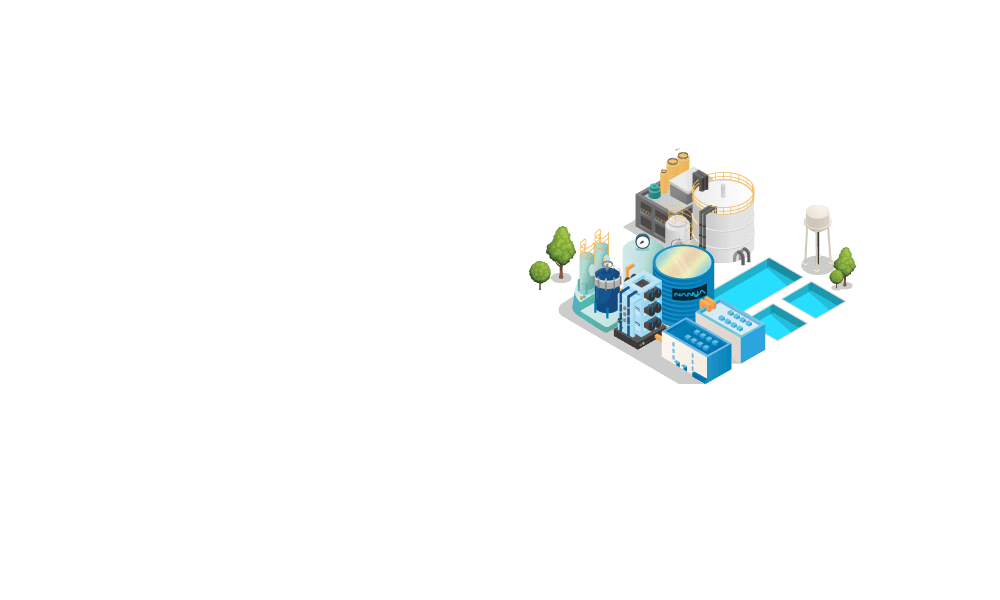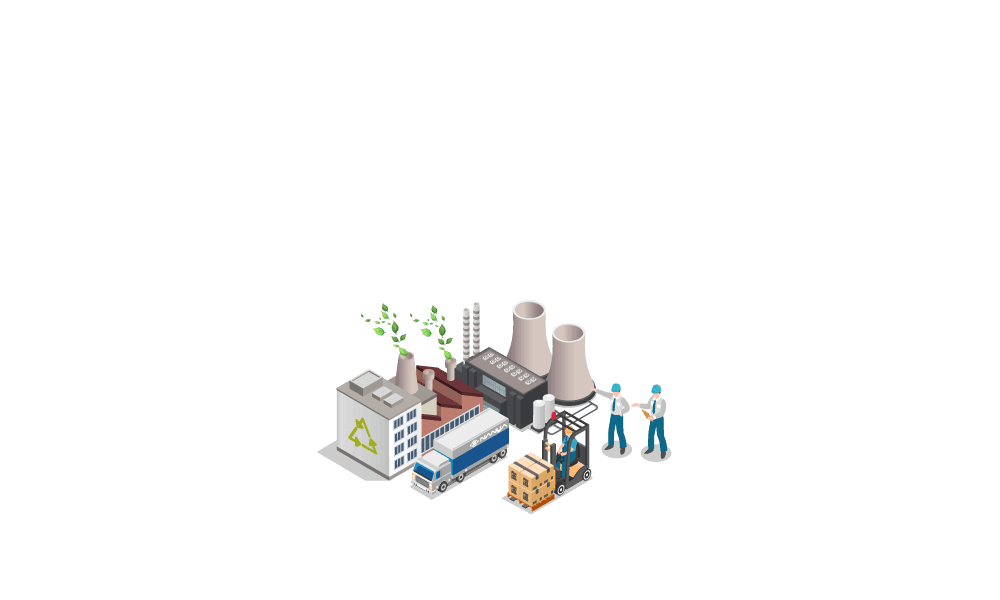 Statistics
100 %

Greenhouse gas verification in the factory area and coverage rate of climate change risk identification

45.6 %

Reduce volatile organic compounds (VOCs) emissions per die by 45.6% from the base year of 2017

95.2 %

Annual average process wastewater recovery rate
Strategies and Performance
2020
Eco-friendly Products
Completed life cycle inventory on 100% of products (goal: 100%)
100 % of products met hazardous substance free standards (goal: 100%)
100 % of materials contained zero perfluorooctanoic acid (PFOA) or related substances (goal: 100%)
Ratio of 20nm and other advanced processes accounted for 83.6% and above (goal: 70%)
Greenhouse Gas Management
Reduced greenhouse gas emissions per die by 31% from 2017 (goal: Reduced by 15%)
Reduction rate of perfluorocarbons (PFCs) emissions during processes reaches 90% (goal: Reduction rate reached 90%)
Reduced perfluorocarbons emissions per die by 25.3% from 2015 (goal: Reduced by 20%)
Energy Management
Cumulative energy saved from 2017 to 2020 totaled 51,265 MWh (goal: 50,000 MWh)
Annual renewable energy actual usage was 362 MWh (goal: 1,200 MWh)
Water Management
Annual average process wastewater recovery rate: 95.2% (goal: 97%)
Other losses in production caused by restricted water supply: 0 wafer (goal: 0 wafer)
Waste and Recycling
0 cases in violation of environmental laws and regulations (goal: 0 cases)
Rate of auditing and coaching waste disposal contractors on-site 90.32% (goal: > 60%)
Reduced VOC emissions per die by 45.6% from the base year of 2017 (goal: Reduced by 15%)
2021
Eco-friendly Products
Completed life cycle inventory on 100% of products
100% of products conform to hazardous substance free regulations and customers' Specifications
100% of materials contained zero perfluorooctanoic acid (PFOA) or related substances
Ratio of 20nm and other advanced processes account for 84% and above
Greenhouse Gas Management
Reduce greenhouse gas emissions per die by 25% from 2017
Reduction rate of perfluorocarbons (PFCs) emissions during processes reaches 90%
Reduce perfluorocarbons emissions per die by 25% from 2015
Energy Management
Cumulative energy saved with energy conservation measures from 2017 to 2021 reaches 58,300 MWh and above.
Annual renewable energy use reaches 1,260 MWh
Water Management
Annual average process wastewater recovery rate: More than 95%
Other losses in production caused by restricted water supply: 0 wafer
Waste and Recycling
0 cases in violation of environmental laws and regulations
Rate of auditing and coaching waste disposal contractors on-site > 80%
Reduce VOC emissions per die by 40% from the base year of 2017
2025
Eco-friendly Products
Complete product life cycle inventory on 100% products
100% of products conform to relevant regulations and customers' hazardous substance free (HSF)
No PFOA related substance in 100% process chemicals We will
Greenhouse Gas Management
Reduce unit greenhouse gas emissions by 25% from 2017. (Per die)
Reduction rate of PFCs emissions during process reaches a minimum of 90%
Energy Management
Energy conservation through energy-saving measures totals at least 80,000 MWh or higher (from 2017 to 2025)
Annual renewable energy use reaches 22,000MWh or higher
Production disruption caused by climate change disasters 0 days
Water Management
Compared with the figure in 2017, a 35% decrease in the average unit water consumption (ton/k-pcs) by dividing total water consumption from 2018 to 2025 with the total production capacity of the year.
Other losses in production caused by restricted water supply: 0 wafer
Compared with the figure in 2017, a 35% decrease in the average unit water consumption (ton/k-pcs) by dividing total water consumption from 2018 to 2025 with the total production capacity of the year.
Waste and Recycling
Non-compliance with environmental laws and regulations cases: 0 cases
Waste disposal companies on-site audits and consultation rate > 80%
Reduce VOC emissions per die by 40% compared with the base year of 2017
Strategies
Eco-friendly Products
Technology refinements: Research and develop advanced and highly efficient products to assist consumers in lowering energy consumption during the usage of products
Consider product life cycle: Improve the environmental friendliness of products on the environment
Hazardous substance management: Continue to promote replacement plans for hazardous substances in the producing process
Greenhouse Gas Management
Energy conservation and carbon emissions reduction: Set short, medium, and long-term goals and actively implement related management measures.
Low-carbon manufacturing: Commit to improvement in production technologies and reduce greenhouse gas emissions in the production process.
Energy Management
Implementation of energy conservation measures: Implement ISO 50001 Energy Management System for systematic management and improve the efficiency of energy usage.
Innovative applications: Use external exchanges or training to obtain the latest energy conservation technology or energy-saving methodology.
Water Management
Response to risks: Establish backup water sources and water storage tanks and use emergency response organization between company plants to coordinate water usage.
Wastewater recycling and reuse: Establish wastewater collection processing and adopt different multiple recovery and reuse to improve the water recovery rate.
Water usage reduction: Conserve water through daily management.
Waste and Recycling
Circular economy: Increase waste recycling and reuse rate to use resources effectively.
Source reduction: Continue to promote waste reduction and increase waste recycling rate.
Climate Change and TCFD
Nanya proactively responded to the trend of international carbon management. In 2018, Nanya implemented the Recommendations of the Task Force on Climate-related Financial Disclosures (TCFD) formulated by the international Financial Stability Board (FSB), and publicly sign support for TCFD in 2021. Nanya developed strategies and actions in response to climate change on aspects of "Governance", "Strategy", Risk Management", and "Metrics and Targets" in hopes of reducing the impact of climate risks.
Governance

Management Strategies and Actions

The Corporate Sustainability Committee supervised by the board of directors is the main competent authority, and is chaired by the President.
Establish the Energy Conservation Committee, and quarterly meetings for the Corporate Sustainability Committee

2020 Operation Status

The Corporate Sustainability Committee convened quarterly, discussing corporate sustainability topics. Responses to climate change was also one of the them. The discussion topics were listed as resolutions or action items that required follow-ups and improvements. For example, gradually apply renewable energy in response to requirements of energy regulations and customers was a resolution.
Reviewed and developed Energy conservation management programs were developed quarterly. A total of 25 energy conservation programs were completed, and an estimate of 24,117 MWh was saved annually.

Strategy

Management Strategies and Actions

Based on the TCFD framework, short, medium, and long-term climate-related risks and opportunities on organizational operation, strategy, and financial plans.
The resilience of organizational strategy is considered under different climate scenarios.

2020 Operation Status

In accordance with the TCFD methods, short, medium, and long-term climate-related risks and opportunities were discussed and identified cross-departmentally. 15 risks and 3 major opportunities were identified.
We used the 2℃ scenario of IPCC to analyze climate risks during operational processes, and developed relevant mitigation measures that complied with the Adaptation Policy Framework for Climate Change. In addition, we formulated renewable energy strategies and goals for a five-year period to move towards the science-based targets (SBT) reduction goal.

Risk Management

Management Strategies and Actions

Impact levels and occurrence probability are used to assess the significance of related risks and opportunities brought by the climate change, and relevant response measures are set.
Climate risk identification and assessment results are incorporated into the Enterprise Risk Management (ERM), and are periodically verified by senior management.

2020 Operation Status

A total of 4 material risks and 3 major opportunities were identified. For example, electricity price might increase by 30% in 2025 so energy management programs were promoted.
Four significant risks were identified, including an increase in electricity expense in 2025, replacement of current products with low-carbon emissions products, and the formulation and implementation of carbon pricing. Three financial impacts were estimated and reported to senior management for review in the annual meeting of the Finance Risk Management Committee.

Metrics and Targets

Management Strategies and Actions

Goals of GHG management and resource recycling and reuse are stipulated.
Energy conservation programs based on the ISO 50001 are promoted.
Full scopes of GHG inventory and verification are conducted annually to confirm sources of GHG for key project management.
Product environmental footprint inventory is conducted on all of our products, and GHG reductions of the entire supply chain are promoted.
We aim to participate in CDP, disclosing information on carbon emissions and communicating with stakeholders.

2020 Operation Status

In 2020, we set a goal to reduce GHG emissions per unit of production by 15% from 2017, and the goal was achieved.
25 energy conservation programs were completed, and an estimate of 24,117 MWh was saved annually.
The inventory and verification of GHG emissions for 2019 were completed; the inventory and verification of greenhouse gas emissions for 2020 would be completed in May 2021.
Product environmental footprint inventory was conducted on all of our products, and 7 energy conservation programs were promoted to relevant suppliers, who planned to implement energy conservation measures in 2021.
We received the ratings of A- in the CDP in 2018 and 2019, and acquired excellent result by receiving the rating of A List leadership level in 2020.
Scenario Analysis
Physical Scenario
In accordance with the Representative Concentration Pathways (RCP), 4 pathways (RCP2.6, RCP4.5, RCP6.0, and RCP8.5) were simulated to analyze the scenarios that the factory area might be faced with during periods of 2021-2040 and 2041-2060. Under the scenario of RCP8.5 in the period of 2041-2060, the temperature would rise a maximum of 2.74℃, and the rainfall would increase by a maximum of 54.1%. Since the temperature would rise 2.74℃, our power consumption of air conditioning equipment would increase by 8%, resulting in an increase of NT$30 million annually in energy expenses. Due to the scenario, we re-evaluated the use of air conditioning. Through the evaluation mechanisms of the ISO 50001 Energy Management, we identified that air conditioning systems accounted for a major portion of our energy use. We cooperated with an external company in 2019 to develop to use chilled-water systems controlled by AI to optimize the operation of air conditioning systems. The optimization of each component in chilled-water systems due to AI smart control created benefits of energy conservation. The annual power saving could reach 1,830 MWh, reducing NT$5.4 million in energy costs.
Transitional Scenario
Nanya used Taiwan's Nationally Determined Contributions (NDCs) to project impacts on power cost in the future. The percentage of renewable energy in Taiwan would increase from 4.9% in 2018 to 30% in 2030, which is planned by the national energy policy. As the cost of renewable energy in Taiwan is higher, TPC might raise the unit price of electricity from NT$2.60/kWh in 2018 to NT$3.88/kWh. The cost of purchased electricity would rise by 50%, based on the purchased amount of 713 million kWh in 2020, we projected that the energy costs in 2030 might increase NT$913 million, accounting for 1.5% of revenues. Owing to the scenario analysis result, we considered reducing the percentage of purchased electricity, raising targets of energy conservation, and whether it would be possible to install self-use renewable energy power generation equipment. Meanwhile, we implemented the ISO 50001 Energy Management programs. Currently, we have changed voluntary reduction goals to be in line with those of the NDC, which is reducing greenhouse gas emissions by 10% from 2018 in 2030 is our goal. We also set schedules and made plans for using renewable energy certificates.
Financial Impact Analysis of Climate Change Risks and Finance
Engagement with suppliers on energy conservation and carbon emissions reduction

Potential Financial Impacts

Enhance the value of product greening
Stimulate consumers' purchasing willingness to increase consumption
Improve consumers' awareness of products and purchasing willingness to increase consumption

2020 Countermeasures

We shared our energy conservation experiences and technologies of recent years with suppliers whose factories consumed large amount of power. We received positive responses, and many supplier energy conservation projects would be launched in 2021.

Development and expansion of low-carbon products and services

Potential Financial Impacts

Enhance product competitiveness and satisfy the need of markets
Increase revenue

2020 Countermeasures

Invested in resources of R&D and production, and developed or expanded the percentage of low power consumption products

Enactment of restrictions on GHG emissions

Potential Financial Impacts

Increase in operating costs, and limiting expansion of production capacity

2020 Countermeasures

Reduction rate of PFCs emissions during processes reached a minimum of 90%
A total of 25 energy management programs were promoted and completed, reducing GHG emissions of 12,775 ton CO2e.
Purchased 362,000 kWh of Taiwan Renewable Energy Certificates (T-REC)

Increase in the unit price of electricity by 30% in 2025

Potential Financial Impacts

Increase in the cost of purchased electricity by 30%, leading to rise in manufacturing cost

2020 Countermeasures

A total of 25 energy conservation programs were promoted and completed, saving24,117 MWh/year

Clients' strong demand for low-carbon products

Potential Financial Impacts

Low-carbon technology fails to meet consumers' requirements, leading to decrease in both order quantities and revenue

2020 Countermeasures

Adjusted the percentages of manufactured products, and the percentage of low-carbon products manufactured was higher than 2019

Unstable power and water supply caused by climate change

Potential Financial Impacts

Impacts on production and increase in operating costs

2020 Countermeasures

Enhanced process water recovery rate to 95.2%
Continued to purchase Dynamic Uninterruptible Power Supply (DUPS) equipment based on the need of production to lower the risk of power blackout or sudden drops in voltage of key machinery

Promotion of the ISO 50001 Energy Management solutions

Potential Financial Impacts

Save electricity expenses

2020 Countermeasures

A total of 25 energy conservation programs were completed, saving 24,117 MWh/year
Renewable Strategy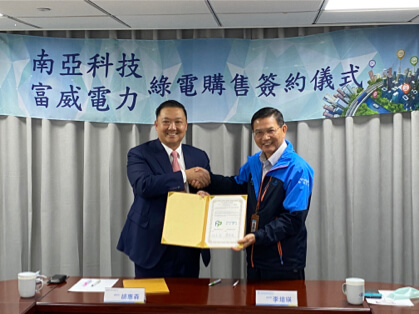 Nanya has purchased 362 MWh renewable electricity through T-REC, and plan to gradually increase the amount in the coming up years. In 2022, we plan to use 1,260MWh, and in 2023, we will achieve the requirement of National Renewable Energy Act to use renewable energy equivalent to 8% of contract capacity. By 2025, we will have used 22,000MWh. In 2020, Nanya has survey the potential of 14 roof area in our plant to build solar panels, and find one to build 450kWp rooftop solar system, which will start operating in 2022 Q1. Besides, we have sign power purchase agreement(PPA) with wind energy company to obtain 2,520MWh renewable electricity in 2021 and 7,880 MWh to fulfill our goals.
Greenhouse Gas (GHG) Management
GHG Inventory
We refer to the ISO 14064-1, four regulations formulated by the Environmental Protection Administration under Taiwan's Executive Yuan, i.e., the Greenhouse Gas Reduction and Management Act, the Regulations Governing Greenhouse Gas Emissions Inventory and Registration, the Greenhouse Gas Verification Guidelines, and the Greenhouse Gas Registration Guidelines, and the requirements of the WBCSD/WRI Greenhouse Gas Protocol, using the method of 100 percent operational control to set organizational boundaries. The inventory scopes of Nanya were all operating locations in Taiwan. The main sources of GHG emissions were purchased electricity and steam (accounting for about 80.7%) and perfluorocarbons (PFCs) used in processes (accounting for about 9.5%). To improve the integrity of greenhouse gas (GHG) inventory in our value chain, we added the verification of scope 3 emissions in 2018.
2017-2020 Scope 1&2 Emission
GHG emissions
GHG Reduction
When planning to build fabrication plants, we have purchased Local Scrubber with high reduction rate. Through purchasing Local Scrubber with high PFC reduction rate when planning to build fabrication plants, and promoting programs on reducing the use of PFC in process, we aimed to reach a reduction rate of at least 90%. From 2017 to 2020, the reduction rates of PFC gases used in process all reached a minimum of 93%, reducing a total of 2,052,666 ton-CO2e GHG emissions in these four years, equivalent to 5,251 times carbon absorption of Daan Forest Park for one year.
PFC reduction performance
Product Value Chain and Scope3 Inventory
To improve the integrity of greenhouse gas (GHG) inventory in our value chain, we have conducted scope 3 inventory in accordance with the GHG Protocol since 2017, and have obtained external verification of the ISO 14064-1 standards. We select 7 items from the 15 items of scope 3 to conduct inventory and have passed verification. The highest GHG emissions came from the use of sold products, followed by the purchased goods and services in the upstream. The fuel-and energy-related activities not included in scope 1 or scope 2 stood at the third place.
2020 Scope 3 Greenhouse Gas Emissions (tCO2e)
Electricity consumption from 2017 to 2020
2017-2020 electricity consumption
The company implemented ISO 50001 Energy Management system and completed the verification in 2018, hoping to constantly improve energy use and management. Pursuant to standard-setting, supervision, measurement, documentation, and improvement of energy intensity, the company promoted the best practical methods of energy management and strengthen favorable management behaviors. In 2020, a total of 29 energy management programs were completed, and create a total energy-saving benefits of 24,117 MWh/year, including saving the consumption of electricity and natural gas. In 2021, 31 plans have been proposed, and expected benefit will be 8677 MWh electricity saving per year.
Case Sharing
CDP
Upholding transparency, Nanya has participate CDP to disclose information about GHG emission and provide our GHG management strategy through the platform for our customer as their supply chain management foundation. In 2018 and 2019, we have obtain A- in climate category and A list in 2020.
Energy Management Platform
We started building an energy management system platform in 2019 for smart energy-saving management. A real-time monitoring platform has been built in the energy management system with a tree structure for hierarchical management so statistical analysis can be conducted in individual system and equipment. The company invested NT$21.8 million in the platform, which was completed at the end of 2019. The platform has been beneficial to energy consumption management and improvement of various organizations and machine groups.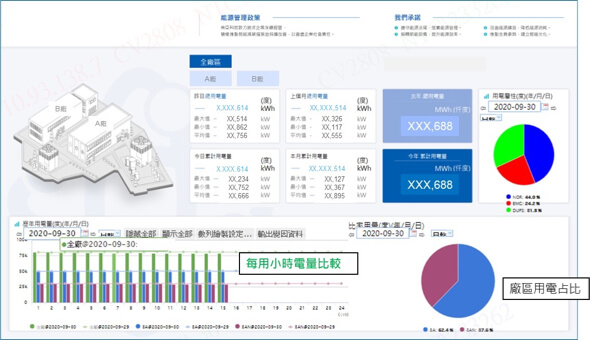 Environmental Friendly Products
Nanya and clients both aim to protect a green planet. We implemented the Life Cycle Thinking (LCT) and the Design for Environment. We have formulated environmental health and safety performance indicators, promoting various waste reduction and resource reuse, greenhouse gas reduction and other projects. In coordination with the Green Product Promotion Committee (GPPC) on green product management, right from the start of product development, we consider seven aspects of environmental impacts, including procurement, manufacturing, transportation, product use, disposal, and recycling in order to identify improvement opportunities to increase environmental benefits.
Environmental external benefits

When new products are developing, impacts on environment of complete life cycles are considered. To electronic products, the energy consumption in use is one of the most significant indicators in environmental impacts. Nanya actively researches and develops low energy consumption products, and assist clients lower demand for energy during their usage of electronic products so that greenhouse gas emissions can be reduced.
Over 658.47 million kWh of Electricity Saved

Product: low power DRAM and 20nm consumer DRAM

Scope: total sales volume of 2020
Calculation: Based on the quantity of products sold in one year, and compared the energy consumption of the aforementioned DRAM products with that of the previous generation

Benefits: Electricity saved equivalent to the annual electricity consumption of 168,322 households; and reduced greenhouse gas emissions by 335,164 ton-CO2e, equivalent to 861 times carbon absorption of Daan Forest Park for one year.
Life Cycle Analysis
We used the Simapro, a life cycle assessment tool, to conduct life cycle assessment on 100 percent of our products, calculated environmental footprints of products, and identified directions for future improvements. Pursuant to the contents of quantifying and communicating requirements and guidelines for the Product Environmental Footprint of the life impact assessment under the ISO 14040s series, the company participated in product environmental footprint declarations, and referred to the regulations of ISO 14064-1 Greenhouse Gas Inventory and ISO/TS 14067 Carbon Footprint International Standard to execute the declarations.
2019 Result of LCA and Improvement Performance
Electricity use

Percentage of product carbon footprint

Improvement plan

Promote the ISO 50001 Energy Management solutions
Implement the plan on purchasing renewable energy

2020 Operation result

Completed 25 energy conservation programs, saved 24,117 MWh/year, and lowered 12,775 ton/year CO2 emissions
Purchased 362 kWh of Taiwan Renewable Energy Certificates (T-REC)

Directions of improvements

Continue to promote energy management solutions
Continue to implement the plan on purchasing renewable energy

12-inch production wafers

Percentage of product carbon footprint

Improvement plan

Key suppliers have promoted energy management programs at factories.

2020 Operation result

Completed 15 energy conservation programs, saved 1,757 MWh/year, and lowered 2,780 ton/year CO2 emissions

Directions of improvements

Save electricity in wafer manufacturing processes
Conserve energy in public equipment (installation of highly efficient energy-saving equipment)

Calcium chloride (CaCl2)used in waste water treatment

Percentage of product carbon footprint

Improvement plan

Lower the usage amount of calcium chloride

2020 Operation result

New resin tower regeneration acid waste water collecting system was installed and started operating in December 2019. The total amount of CaCl2 used in waste water treatment reduced by 20.3% from 2019. The percentage of GHG contribution reduce from 1.92% to 1.26% of in 2019.

Directions of improvements

Keep conduct LCA annually to understand the environmental impact from CaCl2 after the decrease in the usage amount.
Hazardous Substance Free
In 2005, Nanya established the Green Product Promotion Committee (GPPC) to promote hazardous substance free (HSF) management and stipulate the General Rules of Environmental Management Substances for Components and Materials, continuing to effectively control and manage the sources of raw materials and related materials in order to achieve standards of green products and mitigate impacts on natural environment during manufacturing process of products. All of our products needed to conform to international regulations, such as RoHS, REACH, Packaging Instructions, and WEEE, as well as clients' requirements. Moreover, we do not use chemicals concerned by the IEC 62474 so products non-compliant with the IEC 62474 Material Declaration account for 0% of revenue. In addition, through the establishment of HSF management system of materials, we ensured that the wafers produced, rear-end IC packaging, and DIMM module products would conform to the international regulations and related specifications of clients.
2020 Test Reports
2020 HS Surveys
Raw Materials Usage Reduction
Ratio of using recycled materials as production materials
During the production process, dummy wafers were required to monitor process conditions, and used dummy wafers were reused through re-fabrication. Each dummy wafer was expected to be reused for around 8-11 times (differences exist owing to various processes). Therefore, the cost of purchasing brand-new dummy wafers was saved while plenty of waste output was reduced. We periodically reviewed defective items with suppliers, and asked suppliers improve their process conditions and modify specifications. In 2020, suppliers adjusted process methods so the discard condition that etching numbers of wafers were incorrectly read after step rings were polished was improved. Therefore, the average value of supplementing yields was increased from 80% to 85%. Due to stable supplementing yields, the reused rate was increased from 72% in 2017 to 78% in 2020.
Product testing and reclamation of delivery packaging materials
Packaging materials for product shipments to outsourced testing facilities or packaging facilities, such as cartons, outer cartons, cushioning materials, and wafer cassettes, were all reclaimed as many times as possible to be reused. Moreover, wafer cassettes used by raw material for wafer were also recycled and reused in product shipments, and the reuse rate of these cassettes were nearly 100%. The aforementioned practices reduced the consumption of product packaging materials and waste output to minimum levels. This approach could reduce the consumption of approximate 26,000 pieces of brand-new 12-inch wafer cassettes every year, equivalent to reducing the consumption of 118 tons of plastics.
Water Management
Our main water source comes from the Shihmen Reservoir, and is channeled and processed through the Taoyuan Canal before being supplied as production water. The gravity flow is used to independently channel water without affecting the ecology of water resources and any other purposes of usage. In addition, rainwater harvesting can supply production water and tap water for household use. In 2020, the water consumption was 3,368,954 tons. As the production capacity in 2020 increased by 3.95% compared with 2019, annual water consumption increased 110,568 tons or by 3.39%.
2017-2020 water consumption
Manufacturing Water Recycle Performance 2017-2020
Risk Management and Conservation of Water Resource
Nanya's production plant located in New Taipei City, Taiwan. Taiwan's rainfall is unevenly distributed between regions and seasons, which often results in regional and seasonal droughts. Nanya has used the WRI Aqueduct, tools for simulating water resource scenarios, to analyze the geographical location of the plant, finding that the water source area where the plant is located is at risk of short-term water shortages rather than at high risk of long-term water shortages. To reduce the risk of short-term water shortages inherent in the geographical location, we have continuously promoted water-saving measures, and committed ourselves to water recycling to strengthen our adaptability. The amount of water needed by production is huge so water shortage will cause production interruptions, affecting the output and delivery. To mitigate immediate impacts caused by short-term water shortages, a cistern with a capacity of 43,000 tons and two detention basins each with a capacity of 4,060 tons have been built in the plant to effectively harvest rainwater during the rainy season. Moreover, Nanya and the adjacent factories of the Formosa Plastics Group have cooperated to set up an emergency response organization of which the members can urgently deploy water resources to support each other.
Currently, we have set up acid-alkaline waste water, hydrofluoric waste water, and organic waste water recovery systems. Along with various promotions of water saving measures, the recovery rate in 2020 reached 95.2% (met the committed value of environmental impact assessment that the recovery rate of process water was 81.1%). In 2020, the water consumption from the waste water recovery systems, process recovery systems, and rainfall harvesting methods totaled 3,272,200 tons, accounting for 97.1% of the company's water consumption. In the future, to coordinate with the expansion plan of plant area, an estimate of NT$430 million has been invested in building new hydrofluoric waste water COD and total nitrogen treatment systems, which not only will solve the problem of excessively high hydrofluoric waste water COD and total nitrogen, but also recover the hydrofluoric waste water at the same time. It is estimated that additional 1,000 tons hydrofluoric waste water will be recovered daily. The systems are expected to be completed in 2022.
Wastewater Treatment
All wastewater generated by Nanya is collected according to property classification and channeled into proper wastewater equipment for treatment. To ensure that the quality of discharged wastewater is in line with regulations, we and the Environmental Protection Department have monitored the quality of effluents via synchronous connections. In addition, off-line sampling, analysis, and detection are outsourced every quarter to improve the wastewater quality management and control. When the quality of wastewater meets discharge standards, one hundred percent of our treated effluents are all discharged into the Dake River via terrestrial surface. As the effluents meet the quality standards of Category E water bodies, which may be used for irrigation water, Class 2 industrial water, and environmental conservation, and the Dake River later converges into the Tamsui River that empties into the ocean. Investigation shows that the wastewater discharging areas do not involve in affecting the habitat of protected animals or destroying the habitat. The in-plant wastewater treatment is carried out in over 20 different pipelines. The wastewater is mainly classified into organic wastewater, general acidic and alkaline wastewater, hydrofluoric wastewater, and high-concentration liquid waste that is outsourced for treatment. In relation to wastewater treatment, wastewater is classified and treated according to different properties. Other than following statutory standards, we also reuse recyclable wastewater that is treated by the recovery system to reduce the discharge amount of wastewater.
Waste Management
he general industrial wastes and the hazardous industrial wastes of the Nanya are all managed by the Output Department in terms of storage, clearance, detections, and reduction promotions. In addition, the company periodically audits waste contractors to see whether the contractors follow the regulations of waste disposal to handle the waste clearance, in order to confirm the legality of the contractors, ensure that all wastes are well-processed or recycled, and prevent impacts on the environment again. Nanya had not shipped any hazardous wastes to other countries from 2014 to 2020. Output of all hazardous industrial wastes in 2020 was outsourced to certified domestic waste disposal contractors, and reuse was the end purpose in treating 97.48% of the output.
Total volume of waste output
Waste output per unit product
Compared with 2019, total waste volume in 2020 increased by about 5.82%. The main reason was that new processes continued to improve production capacity in 2020, leading to increases in both waste volumes and waste output per unit product. Although new processes resulted in substantial increases in hazardous industrial wastes, more than 85% of our main output of hazardous industrial wastes was outsourced to waste treatment vendors who recycled the wastes as industrial materials. The company will continue to take measures to reduce wastes and increase recycling in order to reach the sustainable development goal of effective recycling of wastes.
Case Study- Copper recovery from CuSO4 Solution