PRESIDENT'S MESSAGE
Implementing Sustainable Development Through Innovation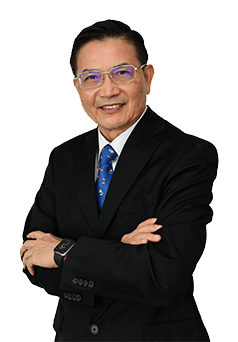 To all caring stakeholders of Nanya:
Nanya Technology has delivered its eighth consecutive profitable years successfully, despite that, the world was ravaged by COVID-19 pandemic and international trade conflicts in 2020, which imposing serious challenges across many industrial sectors globally. The company has built up its strength in corporate vision, ability to adapt, and cooperate competiveness in the DRAM industry. We would like to thank our stakeholders for their persevering support and affirmation. After 25 years of challenges and hardships, Nanya's team has constructed sound foundation in the DRAM industry and through innovation. The team has accumulated many years of research and development experience and has successfully developed next generation technologies and products. As we move forward, "innovation" will be the main driving force behind Nanya's sustainable development.
"Innovation" is Nanya's long-term strategic goal and core value, which is the foundation of our developments for advanced process technologies and new generation products, and well positions us as a key memory supplier. We rooted the spirit of innovation into "sustainable development". The implementation of sustainable management activities, including talent development and retention, green product lineup deployment, Artificial Intelligence (AI) green manufacturing, sustainable supply chains, and social participation makes us be all of one mind to realize Nanya's commitment to sustainability. As a part of this transformation, we have actively responded to the United Nations Sustainable Development Goals (SDGs) by setting long-term sustainability goals for 2025. We have laid the path to sustainability through practical action for the betterment of society.
We deeply believe "Employees" is the foundation of a company's innovation, operation, and sustainable development. We have implemented various methods to deepen the core values and management ideals of "integrity and responsibility", "efficiency and innovation", and "sustainable management", and plan to unite our employees, while building a business that is a source of pride. In 2020, we established the "Semiconductor Industry Excellence Training" and "Dynamic Memory Core Technologies", and launched the "Intelligence and Talent Institute" program, which the employee participation ratio of "Special Purpose Dynamic Memory Product Development and Sales Project" reached 85%. Through these program, we hope to enhance employees' domain knowledge to expand the growth momentum of Nanya.
DRAM has becoming a critical component for the intelligence age. We have developed advanced and high performance "environmentally friendly products" to satisfy the needs of the market and our customers. Besides the continuous optimization of product performance, we are also focused on the optimization of product power usage. In our 2020 sales strategy, our energy-saving products accounted for 84% of our total revenue through our focus on product customization for different applications. We have helped customers save around 600 million kWh of electricity over the year, allowing our innovative "green products" and technologies to make quantifiable contributions to the environment.
Nanya has introduced "AI smart manufacturing" to improve our automated production, as well as integrate cloud based big data processing. We are expected to develop more than 20 "innovative AI applications" every year and gradually implement AI technologies throughout all settings of the company. Our aim is the comprehensive improvement of production efficiency and capability through the implementation of AI as the driving force behind the improvements. Since 2019 we have: developed over 50 AI applications, started our 3-year AI talent cultivation, and implemented plant-wide seed-talent training in 2020. We project that 400 AI specialists will complete training in our plant by 2021, creating a digitized and competitive organizational environment.
The company continues to respond to threats of climate change that include strengthening our climate resilience to reduce the possible operational impacts caused by disasters and actively reducing our greenhouse gas emissions. We also incorporate green management into our corporate operations. 29 "energy-saving action plans" were implemented in 2020, which saved more than 24 million kWh of electricity in total. For 2021, we have planned 31 energy-saving action plans to continue our efforts in carbon reduction and low-carbon emission operations. Regarding wastewater, we will utilize each drop through a complete wastewater recycling chain and maintain our water recycling ratio over 95%.
In addition to following our own path to sustainability, Nanya is also collaborating with our upstream and downstream partners to move forward as one towards sustainability. We are guiding 304suppliers towards our ideas of sustainability and 100% of our partners have co-signed the Nanya Corporate Social Responsibility Guarantee. We have assisted our suppliers in implementing sustainable improvements through guidance and audits, which have resulted in tangible improvements that have been completed across our supply chain. In 2020, Nanya hosted the first ever Nanya supply chain seminar and has incorporated ESG issues into our audit management. We are working towards expanding the influence of sustainability by partnering with all our suppliers.
With regard to social participation, we launched the 4U (For You) program. We selected "talent cultivation", "environmental preservation", "humanistic care", and "community harmony" as the main themes for our program. Additionally, we also launched the "Youth Cultivation FOCUS Project" which uses academia-industry cooperation, technical talent cultivation, lectures, seminars, and other plans to nurture and develop talent for the company and the Taiwan semiconductor industry. In 2020, Nanya invested more than NT$40 million in social participation, which accounted for 92.87% of total business and operation related charitable investments. We also organized 51 different seminars with around 3,060 participants. Furthermore, we established the volunteer service team in 2021 to expand social participation by our employees and their families. Our aim is to create opportunities to share our value with the community.
In terms of affirmation and recognition for our efforts in sustainability, we were awarded the CDP Climate Change and Water Security "Leadership" grading and ISS ESG Prime grading in 2020, and the Semiconductors and Semiconductor Equipment bronze award of the 2021 S&P Global Sustainability Yearbook. Domestically, we received the "National Sustainable Development Award" from the Executive Yuan in 2020. We have been certified as a "Green Factory", received "Excellence in Corporate Social Responsibility award", and the "TOP 50 Sustainable Corporation award", "Corporate Sustainability Report platinum award", "Innovative Growth award", "Information Security award", "Supply Chain Management award", "Social Inclusion award", and "Climate Leader award" of the Taiwan Sustainability Association. Nanya has received a great deal of recognition and affirmation for our implementation of sustainable development, inspiring us to learn and improve on the path to sustainable development.
We will continuously promote 3 major strategies: "creating long-term value", "strengthening partnerships", and "implementing positive changes" to carry out the mission of "best DRAM partner for smart world". As a member of the global semiconductor industry and the 4th largest DRAM company in the world, we will further strengthen our advantages on the basis of innovations for smart R&D as well as co-work closely with global partners and stakeholders to move towards sustainable development and exert influence on the environment, society, and economy for a better world.
President Pei-Ing Lee