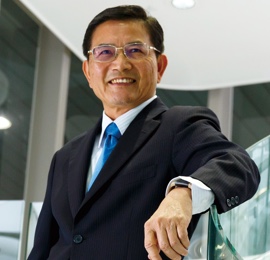 Thanks to the great effort from our colleagues and the great support from our customers, suppliers, shareholders, and communities. Nanya Technology Corporation (NTC) has been profitable for six consecutive years through fluctuating DRAM market cycles. In our effort toward Corporate Social Responsibility (CSR), NTC is the only memory (DRAM) company in Taiwan to be included in the Dow Jones Sustainability Emerging Markets Index(DJSI) while obtaining A- rating in Carbon Disclosure Project's(CDP) Climate Change Evaluation. For the last two years, NTC has received up to 17 various of awards and recognition for CSR related qualification or competitions. We should be proud of being recognized as one of the best world class CSR company.
To further enhance our competitiveness in DRAM industry, our managers have jointly defined 2019 keyword as "Innovation", to emphasize NTC's strategic goal on pursuing the 20nm and 10nm generation technology, and to lay the foundation for advanced manufacturing and self-development. NTC has successfully play a key role in propelling DRAM as a critical electronic component driving our societies towards the smart era, widely applied to diverse areas of smart city, smart home, smart office, unmanned vehicles, internet of things (IoT), cloud, 4G/5G communication and artificial intelligence (AI).
In the implementation of CSR development, we have developed low energy consumption DRAM products, so our customers can reduce the energy consumption and carbon emissions. In 2018, over 60% of the NTC's products are built to be low energy consumption, assisting consumers save electricity of 701.02 million kWh and reducing carbon dioxide emissions of 388,368 tons.
701.02
Million kWh of
Electricity Saved
Over 60% of Our Products Possess Low Energy Consumption
ISO 50001
Energy Management System
ISO 14001
Environmental Management System
ISO 14064
Greenhouse Gas Inventory
In Value Created with Industrial Chain Procurement
Following the guidance from The United Nations' Sustainable Development Goals (SDGs) we are determined to make contribution in society responsibility beyond pursuing profits. We have defined six major goals targeting CSR achievements, which are: 1) Be a trustworthy company, 2) Be the best memory partner for our customers, 3) Be a promoter of shared value, 4) Be a producer of green technology, 5) Be an attractive employer for professional talent, and 6) Be an active participant in community and social welfare. We have also formulated NTC's 2021 sustainability vision, setting long-term goals, and reviewed the goals year after year. We are striving to reach the targets on economic, environmental and social dimensions.
NTC has taken great initiative as an industry leader in corporate sustainability. In addition to DJSI and CDP recognition, we have been selected as FTSE4Good Index Series, recognized as "Top 100 Global Technology Leaders" by Thomson Reuters, and awarded "Top 50 Corporate Sustainability" and "Corporate Sustainability Report Gold Award" by Taiwan Institute for Sustainable Energy(TAISE). Moreover, NTC has obtained Gold Certificate of "Talent Quality-management System (TTQC)," and won the "Distinguished Enterprise Innovation Award" in the 2019 National Industrial Innovation Award held by the Ministry of Economic Affairs of Taiwan.
In recent years, many concerns have been raised on the extreme climate abnormalities, frequent disasters, the global economy slowdown, and talent lost due to unfair competitions. We have been building resilient organizational structures in response to global risks and challenges. In regard to the climate risk, NTC introduces ISO 50001 Energy Management System, ISO 14001 Environmental Management System, and ISO 14064 Greenhouse Gas Inventory. We also take the potential climate risk into consideration and have formulated response handling mechanisms.
Employees are the most important asset of the company and the key to sustainable development. We have comprehensive training programs and promotion system for employees, so that employees can get appropriate career development based on their attributes and expertise in managerial, technical, or professional fields. We treasure our talent so we have various programs and incentive measures as well as create a good working environment and job security. Meanwhile, we advocate the importance of work-life balance and encourage employees to take regular exercise by building a multi-use sports center in the company headquarters. We are determined to build up trust and common goal between our employees and the company, and to reduce talent lost due to unfair competitions.
We have diligently strived for corporate social responsibilities to drive positive change for our society and communities. We cultivate young people by internship programs and industry-academia cooperation. As to the protection of environment, we provide environment protecting resources and knowledge of energy-conservation and ecology by collaborating with non-profit organizations. We stimulate arts and culture by combining local arts and charitable organizations. We have become closer and closer to the community over the past year and integrated the company's resources with employee initiative in volunteer work to advocate hope and mutual benefit.
NTC is committed to be the best memory partner for smart world generations. Upholding the four core values of innovation, integrity, accountability, and efficiency. NTC collaborates with the stakeholders, including customers, suppliers and partners, to internalize the value of corporate social responsibility, and well organized to implement actions in our operation to make contribution in improving society welfare.
President Pei-Ing Lee