2021/11/4
Nanya Technology's Best Practice on Eco-friendly Products and Green Manufacturing
Won the 3rd National Enterprise Environmental Protection Award
Nanya Technology has won recognitions on its eco-friendly products and green manufacturing as the first Taiwan's DRAM corporate to receive the 3rd National Enterprise Environmental Protection Silver Award from the Environmental Protection Administration, Executive Yuan, R.O.C.(Taiwan).
Nanya's eco-friendly products accounted for 84% of its revenue in 2020, saving up to 658.48 million kWh of electricity for our customers. The company has introduced the Life Cycle Thinking (LCT) and the Design for Environment in the manufacturing and product design and conducted green product management through the Green Product Promotion Committee. Nanya has successfully self-develop 10nm-class DRAM process technology and will launch next-generation DDR5 and LPDDR5 products, which will enable the average power consumption to further reduce 16~35% while doubling the bandwidth.
Nanya Technology has invested over NT$ 3 billion in wastewater treatment and our wastewater is 100% treated in house. In 2020, our process water recovery rate reached 95%. The company has won recognition from the CDP's Climate Change A List and Water Safety Leadership Level, and formally signed the TCFD initiative in 2021. For renewable energy, Nanya has purchased 362 renewable energy certificates and completed the evaluation on self-building a 450 KW solar power plant in 2020. And in 2021, Nanya announced purchasing 10.4 million kWh of renewable energy. As of 2025, Nanya will target for 22,000 MWh of renewable energy yearly. We've continue to make efforts toward RE 100 initiatives and the Science-Based Targets.
Nanya Technology has received a number of recognition for our implementation in cooperate sustainability. We have been selected twice in Dow Jones Sustainability Emerging Market Index, ranked first among global memory companies in 2020. We also won the National Sustainable Development Award. As in 2021, we were certified with Green Factory Label; ranked in the top 5% for the third time in the Corporate Governance Evaluation of TWSE; awarded of ESG Integrated Performance Award by Global Views Magazine; and received Excellence in CSR by CommonWealth Magazine for the third consecutive year. Nanya will continue to focus on sustainable development and environmental protection, and promote eco-friendly products and green manufacture through innovation development and talents cultivation for our vision as the best DRAM partner for the smart world.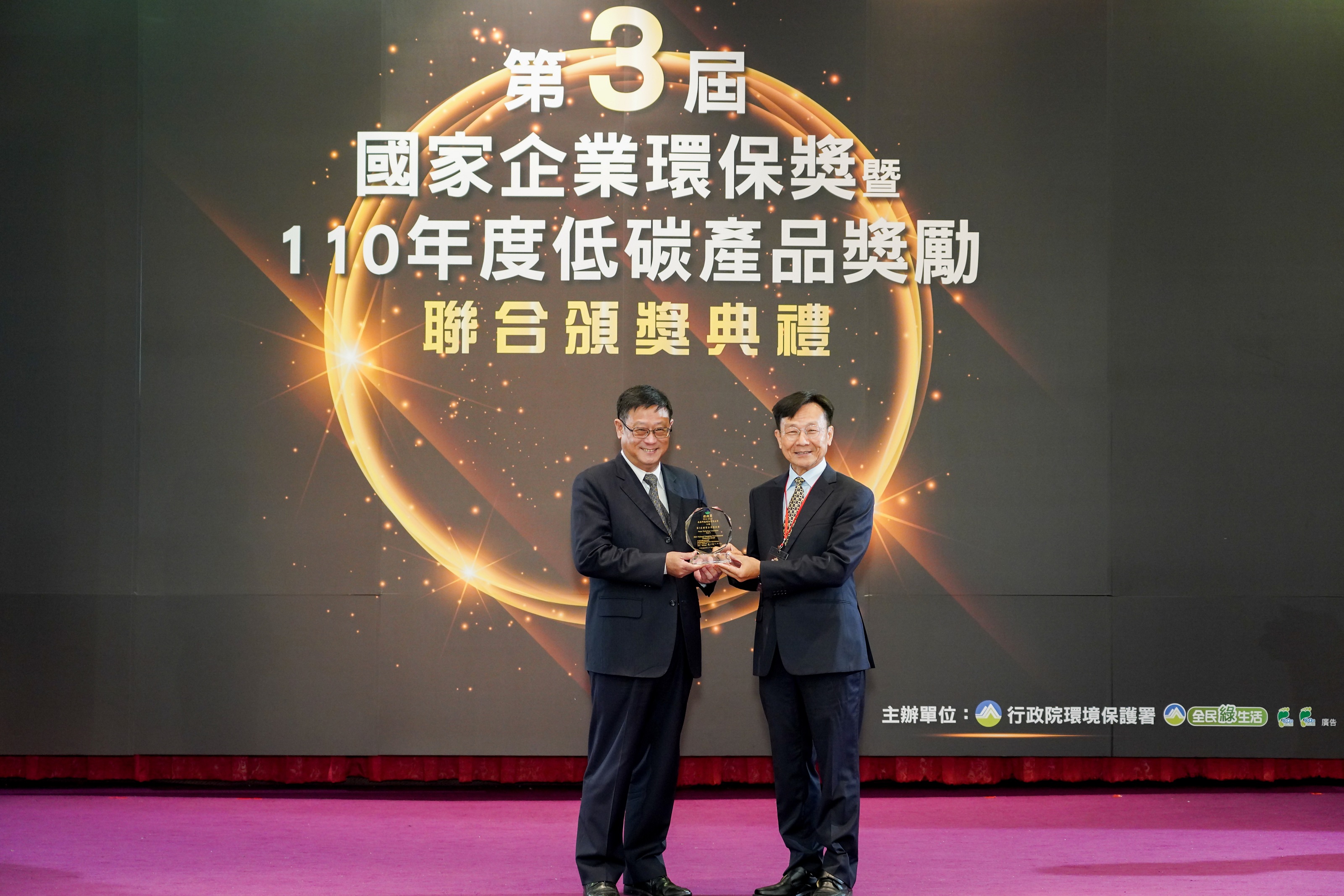 Left:Environmental Protection Administration Minister, Chang Tzi-Chin、Nanya Technology Executive Vice President, Dr. Lin-Chin Su