NTC is a key supplier in specialty DRAM market. As a global citizen, NTC follows RBA code of Conduct , compliance with local laws, and ensure our suppliers daily operations accordingly to provide employees with a safe working environment. Workers are treated with respect and dignity and business operations are environmental responsible and conducted ethically.
For this, NTC establishes its own Code of Conduct and management system and policy, monitor every the compliance inside NTC to monitor every potential risks. To verify the system, NTC applied RBA VAP and was audited on December 20, 2017, and received a positive audit results feedback on February 27, 2018.
NTC deeply understands the suppliers are also the important roles to fulfill above commitment. NTC expects and demands our supplier's commitment to RBA code of conduct. Every supplier are requested to sign a Letter of Commitment of Supplier of Formosa Plastics Group for Corporate Social Responsibility, when order for goods. NTC map out supplier audit plan and execute audits by using written questionnaire and onsite auditing to check the supplier's compliance situation. NTC tries to make some efforts together with our suppliers to create a better electronic business environment.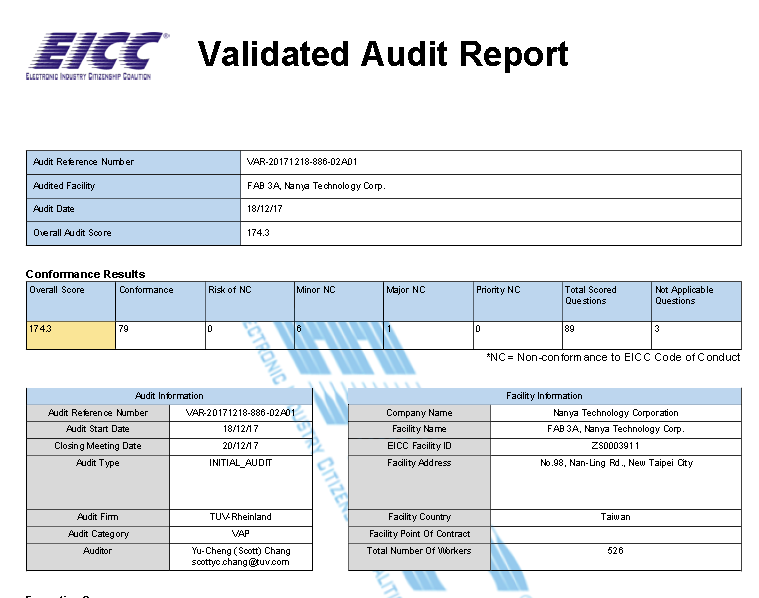 Nanya Technology Corporation supports and follows the basic principles of human rights such as the UN Universal Declaration of Human Rights, the International Covenants on Human Rights, the First and Second Principles of the UN Global Compact, the International Labor Organization's "Declaration of Fundamental Principles and Rights at work," and local ordinances. Regulate and implement human rights protection by joining the Responsible Business Alliance.
We have established the Human Rights Policy to protect our employees and expect our suppliers, customers and join ventures to follow this policy to protect human rights.
1.Comply with the local labor and environmental laws and regulations at the place of operation to ensure that employees have reasonable working conditions and a safe and healthy working environment.
2.Strive to create equal hiring and freedom from discriminated and harassed environment. There is no difference in employment and actual work (such as promotions, reward, and training) base on race, color, nationality, age, gender, sexual orientation, disability, pregnancy, religion, political affilation,union membership, marragie, etc.
3.Establish a smooth communication channel between employers and employees and provide a grievance mechanism. If there is any violation of human rights, conduct investigation procedures and implement remedial and improvement actions immediately.
4.Forced, debt bondage or indentured labor, child labor shall not be usad. Respect the rights of privacy and employee freedom of association.
5.Regularly review and evaluate relevant human rights systems and practices.